Best Gin Experiences in London, Birthplace of the Martini Cart
Ordering a gin martini at the bar might be a modern day signal of impeccable taste, but like other once-villainized spirits (we're looking at you, absinthe), gin is actually marked by a surprisingly contentious history. Over the years, the juniperus spirit has experienced quite the revamp—going from London's public enemy No.1 to one of the most popular in the world.
Today, you can find quality craft gin nearly anywhere you look. It's imbued with flavorful, local botanicals that help tell the story of the bottle's terroir. It's London, though, where gin has (literally) made a name for itself. It's also where visitors can experience some of the most interesting ways to taste a variety of London Dry Gins, from the city's opulent gin palaces to tableside martini services fit for the queen herself.
An Abbreviated History of Mother's Ruin
We're not going to lie: London in the early 1700s sounds like a tough place to be. The city was practically drowning in alcohol—as the notorious Gin Craze took over the city. At the time, a reported one in four homes were distilling what they called "the mother's ruin." In 1730, there were an estimated 7,000 gin "distilleries" that dotted the city. Lower-class Londoners took to concocting a rudimentary and dangerous, form of gin. It's a far cry from the London Dry variety we enjoy today. In place of the rich, herbaceous flavors we know gin for now, Londoners were adding ingredients such as turpentine, sulphuric acid, and even sawdust into their moonshine-esque liquor.
After a number of unfortunate gin-related deaths, Parliament was forced to take action by requiring the acquisition of a distiller's license, and introducing bills to further limit the creation of gin—chief among them the 1751 Gin Act, which drastically curbed the number of "distillers" in the city by prohibiting them from selling to unlicensed merchants and increasing fees.
The London Dry style
"Following the gin craze, a time in the 1700s when many associated gin with the perils of overconsumption and poverty, gin's image started to be rehabilitated in the 1800s with the emergence of the more refined London Dry style of gin," says Sipsmith Master Distiller Jared Brown. "The London Dry style was synonymous with high-quality craftsmanship as it was often enjoyed neat in the gin palaces of the times."
Brown tells us the London Dry style developed in response to new distillation methods. This allowed the gin to adopt a more refined taste. Despite its name, "London Dry" differs from other spirits like tequila and bourbon in that distillers can make it anywhere in the world. It must meet two specific criteria in order to earn the distinction of London Dry: 51 percent of the botanical mix must be juniper and no flavoring can be added after distillation.
Today, gin is distilled and enjoyed everywhere, but it was London that put it on the map. In classy, members-only haunts, high-end cocktail bars, and opulent gin palaces, the juniperus spirit remains the talk of the town.
London's Most Iconic Gin Experiences
Jamie Steveson
1. Tour the Sipsmith Distillery
When Sipsmith started making London Dry gin in 2009, it was the first distillery to open in London proper in over 200 years. It was paving the way for a "ginaissance" that has led dozens of other distilleries to open their doors in London since. Brown says that once it was decided by the founders that they wanted to create a gin true to tradition, "I went to work, researching gin recipes from the 1700s and 1800s to find the perfect Sipsmith recipe."
"The result is a recipe that uses botanicals, an ABV level and distillation techniques, including maceration of botanicals, copper pot still distillation and the one-shot method, that were traditionally used by some of the original gin distillers in London."
Visitors to London are able to stop by Sipsmith, located in the charming neighborhood of Chiswick. Here's where they make magic. If you happen to be visiting London during Wimbledon, you can also sip on gin-laden spritzes from their dedicated bar. Sipsmith is the official gin partner of the iconic tennis tournament.
Dukes
2. Order a tableside martini from Dukes
There is perhaps no place that delivers more of an authentic "London" cocktail experience than Dukes. It's a small but mighty bar inside a refined hotel by the same name in the neighborhood of St. James's. For more than a decade, Dukes has been the domain of head bartender Alessandro Palazzi, who gets to treat nearly every patron to the classic Dukes' martini experience (it would be borderline blasphemous to order anything else there).
It was a favorite of James Bond author Ian Fleming. He enjoyed it so much that it eventually inspired 007's signature order: the Vesper Martini. That's how classic the Dukes martini is. Dukes prepares it tableside on a century-old rosewood trolley. Expect a cocktail so stiff that it's against the rules there to enjoy more than two in an evening.
The Connaught
3. Choose your own bitters at The Connaught
The Connaught Hotel in Mayfair is the definition of posh. In fact, it's the only hotel with permission to use the Buckingham Palace "royal red" for its carpets. Members of the British monarchy have come by for decades. Its namesake bar has been dubbed one of the world's 50 best. This is largely thanks to its highly experiential Dry Martin, complete with a tableside martini trolley. Ordering one is sort of like a choose-your-own-adventure deal, from the gin selection (you can always stick with the bar's own, which they distill right there at the hotel), to the flavor of bitters you prefer.
Your choice between eight house bitters could imbue your martini with flavors from cardamom to lavender to tonka. You get the chance to smell them beforehand through parfumerie-like flavor cards. Next, all there is to do is sit back and relax while they shake and pour your cocktail from daring heights—all the while infusing it with a fresh lemon twist.
Viaduct Tavern
4. Explore the City's Victorian Gin Palaces
Stepping into one of London's grand gin palaces is like experiencing a time machine. These 19th-century bars came about in the 1830s, just on the cusp of the Victorian Era. Known for their elaborate decor, having even a simple gin and tonic becomes an experience. One of the most popular includes the Argyll Arms, which dates back to 1868 and remains largely unchanged from its original design. One of the most stunning examples is the Viaduct Tavern. Open since 1869, it features etched glass panels, detailed paintings, and an original Lincrusta ceiling and a cashier's booth. Lacking history but making up for it with quirk is Mr. Foggs Gin Parlour, which resembles the gin palaces of yesteryear.

For access to exclusive gear videos, celebrity interviews, and more, subscribe on YouTube!

https://www.mensjournal.com/travel/best-adults-only-resorts/
If you're new to the whiskey world, you might have noticed a phrase found on some expressions of bourbon (and even some other whiskeys). The phrase is "bottled-in-bond." If you purchased some of these bottles, you might assume it simply means that said expression is higher in alcohol than most. That's because bottled-in-bond bourbons are exactly 100 proof. But there's much more to this title than simply a higher alcohol content.
The Bottled-In-Bond Act of 1897 was enacted to make legal regulations surrounding the aging and bottling of whiskey, specifically bourbon. The reason this act came to be was because back in the late 1800s, much of the whiskey world was more like the Wild West. There was a lot of moonshine, ethanol, and other potentially dangerous spirits. That and some flavorings and coloring added to make them appear to be whiskey. The U.S. government wanted to protect consumers and actual distillers.
All these years later, using the term bottled-in-bond still comes with a few rules and regulations. According to the act, to fit this qualification, one distiller must make the whiskey at only one distillery in one distilling season. It must mature in wooden barrels for a minimum of four years in a federally bonded warehouse. It also must be bottled at 100 proof and have nothing except water added to it.
Now you know exactly what you're getting when you purchase a bottle of bottled-in-bond bourbon. So, it's time to drink it. To help you out, we put together a list of the best bottled-in-bond bourbons you can drink right now.

For access to exclusive gear videos, celebrity interviews, and more, subscribe on YouTube!

How to Explore the Best of West Virginia's State Parks and Forests This Fall | Men's Journal
2. Cacapon Resort State Park
West Virginia's Eastern Panhandle remains a popular escape thanks to its epic scenery, historic points of interest, and convenient proximity to hubs like Baltimore and Washington, D.C. This captivating region is also home to Cacapon Resort State Park. Tucked away in a folded mountain ridge, this park encompasses more than 6,000 acres and tends to lure lovebirds, history buffs, daredevils, and families. A visit here is like a choose-your-own-adventure getaway. Whether you're chasing a wild, untamed experience or seeking a more laid-back, restorative vibe, you're bound to find it here. Bonus: It's only about an hour from the Beltway.
What to do: For a rugged retreat, take advantage of the park's challenging single-track biking trails, marked by mountain switchbacks and varying terrain. Hikers can take off on nine different trails that wind over 23 miles. Trek up to the Cacapon Mountain observation deck (one of the state's most Instagrammable spots) to get jaw-dropping overlooks of West Virginia, Virginia, Maryland, and Pennsylvania all at once. You can also explore the park on horseback. Triple-C Outfitters is a family-run riding stable that's been offering guided tours in the region for more than two decades. Golfers flock to the park to play the 18-hole championship course, which features 73 sand bunkers and a commanding double green that's over 100 yards wide. Designed by famed golf course architect Robert Trent Jones, Sr., it ranks among the top 130 best-designed courses in the country. You can also grab a few buddies for some friendly competition. Game courts for tennis, basketball, sand volleyball, and even wobble clay shooting are available.
Where to stay: Searching for a sophisticated stay? The recently renovated 124-room Cacapon Resort is the newest lodge in the West Virginia State Parks System. The luxury property offers indoor and outdoor dining plus the full-service Healing Waters Spa. Fun fact: The area is known for its rejuvenating mineral springs and the name "Cacapon" is derived from a Shawnee word meaning "medicine waters." The park also has a collection of cabins in four different styles to customize your stay: Vacation, Legacy, Classic, and Economy. The advantages depend on which category you book, but they all offer the basics, like running water, electricity, fully equipped kitchens, and showers. There's also The Old Inn, a palatial 12-room cabin that sleeps up to 32 people. Its impressive claim to fame is being the very first lodge in the West Virginia State Parks System.
Best Adults-Only Resorts for a Kid-Free Getaway
[from $2,750 per night; twinfarms.com]
3. Chatham Inn, Relais & Châteaux in Chatham, MA
For another Relais & Châteaux jewel, head to Cape Cod. This 18-room, adults-only property is a postcard-perfect getaway. Spend relaxing afternoons strolling around the historic environs (the village of Chatham was established in 1712), scoping out lighthouses, hanging on the beach, and biking or boating the day away with your loved one. No trip to Chatham Inn is complete without a meal at Cuvée, run by 3 Michelin Star-awarded chef Isaac Olivo, for a tasting menu that melds together European technique with coastal flavor.
[from $349 per night; chathaminn.com]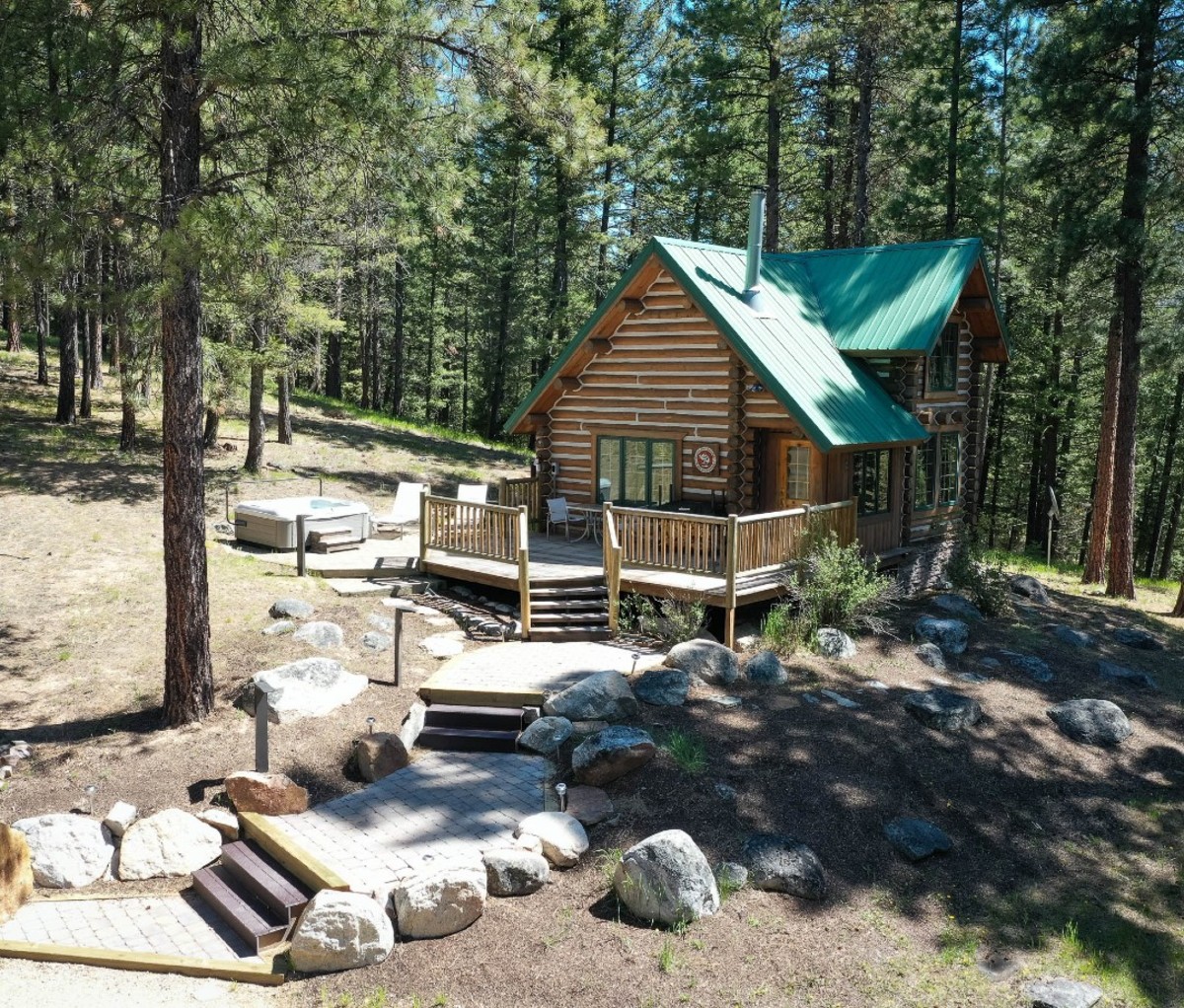 4. Triple Creek Ranch in Darby, Montana
Head to the majestic Bitterroot Valley outside Darby Montana, to this adults-only ranch amid towering pines below a 10,000-foot mountain. There, you'll stay in a private cabin as you indulge in fine wines and high-mountain fare (think Montana huckleberries, fiddlehead ferns, and rattlesnake sausage). Partake in hiking, mountain biking, horseback riding, fly-fishing, panning for sapphires (yes, really), and other alpine adventures. Throughout the lodge and cabins, be sure to feast your eyes on the beautiful collection of Western paintings and sculptures. There are works by classic greats like Charles M. Russell and Frederic Remington, and contemporary standouts like William Matthews and Oleg Stavrowsky.
[from $1,300 per night; triplecreekranch.com]