The Ultimate Beginner's Guide to Disc Golf
There are courses in every state in the U.S., the equipment is cheap and easy to transport, the learning curve is as gentle or as steep as you're willing to make it, and everyone and their grandmother can play it. There are a lot of good reasons why disc golf is exploding right now, but the best explanation is also the simplest: Disc golf is just a lot of fun. You get to hang out outside, navigate obstacles and challenging terrain, and test your accuracy and precision. You can play with a group or by yourself. It's more casual than regular golf, but more serious than a simple game of Frisbee.
Better yet, a strong community has formed around disc golf. There are courses all over the country, and at each one you'll find groups of disc golfers throwing power shots, tossing rollers, hucking hyzer flips (more on that below), and enjoying the great outdoors. It's a perfect travel sport and a good way to meet friends wherever the road takes you.
According to the 2021 disc golf growth report (compiled by UDisc, an app for disc golf) the sport has grown by 1,700 percent since 2011—and that's just counting players who use UDisc. In 2020, approximately 50 million rounds of disc golf were played in the U.S.—that's roughly 100 every minute. That same year, 3.5 new disc golf courses were built in the US every day, and the vast majority of them are free to play. It's one of the fastest growing sports in the world right now.
For those who have never tried it, or who've played a few rounds and want to play more, this is your launch pad into the sport. Keep reading for everything you need to know to get started with disc golf.
How to Disc Golf
As the name implies, disc golf is similar to the game of golf—with some notable differences. Instead of golf balls, you're using discs, and instead of clubs, you're using your arms. There's also no dress code, the equipment is relatively cheap, and most courses are free to play. Some people get competitive with disc golf, but by and large, it's a very casual sport.
Playing is simple. Just like regular golf, a disc golf course consists of individual holes. You'll start each hole by throwing from a tee box, and the ultimate goal is to get your disc to land in the basket—essentially an elevated wire container with chains suspended above it—in the fewest possible shots. Similar to regular golf, there's a par score for each hole.
To play, find your course's map and start at the tee box of the first hole. If other people are already playing, give them time to sink their shots in the basket and move ahead to the next hole (no one wants to play on other people's heels, and no one wants their heels played on.)
When you're ready for your first shot, keep your eye on the basket (if you can see it from the tee box) and assume a throwing stance: For a backhand throw, put the same leg as your throwing arm forward and place the other leg back, standing sideways at 90-degree angle relative to your target. Grip the disc with three fingers underneath and your thumb on top. Wind up with your throwing arm by pulling it back across your body.
Then, without taking your eyes off your target, swing the disc horizontally straight across your body, creating torque with your core, and snap your wrist as you release the disc gently from your fingertips. The flatter you can keep the disc as you throw it, the straighter and more stable its flight will be.
Pro Tip: Make a mental note of where your disc lands, including a nearby landmark like a tree or rock. Many a disc has been lost by golfers who didn't pay attention to where their throw fell.
Once everyone in your party has thrown, walk to your disc. When it's your turn again, pick up your disc and throw it again, aiming to get closer to the basket (or land your disc in the basket). Keep score by counting each throw as one stroke and add them all up at the end for your score for the round.
Getting Equipped: Discs and Accessories
Serious disc golfers will often have multiple discs and other disc golf gear, but all you really need to get started is a single disc. If you're on a shoestring budget and still want to get out and play, check out websites like Lucky Disc Golf or a local outdoor exchange store. There you'll find used discs of all shapes and weights for prices ranging from $10 to $20.
But if you do want to invest in some new discs and accessories, here's what to look for.
Discs
Like golf clubs, disc golf discs come in different varieties. There are various weights, shapes, and densities that are meant for different throws covering longer or shorter distances. Generally speaking, there are four types: distance drivers, fairway drivers, midranges, and putters. Most disc companies make at least one model in each of these categories (usually they make several).
Every disc will have a set of four numbers printed on it that rate its speed (1 to 14), glide (1 to 7), turn (+1 to -5), and fade (0 to 5), in that order. Speed rates how fast the disc moves through the air; glide rates how well the disc stays aloft; turn measures the disc's tendency to tilt and turn one way or another; and fade indicates the slow-speed stability of a disc.
For beginners, the first two ratings are the most important. The second two are more technical but good to understand nevertheless. Here's how those ratings apply to the different types of discs.
Distance drivers might have a rating of 12/5/-1/3. They will fly very fast and stay afloat for a decent amount of time. They'll also have a tendency to turn slightly to the right, and as they slow down, they'll remain fairly stable in the air.
Midrange discs have ratings more in the range of 5/6/-1/0. These aren't very fast, but they're very good gliders that will stay aloft for a long time. They have a slight right turn tendency and fair slow-speed stability.
Putt and approach discs will often have scores like 1/1/0/2 or 3/3/0/1. They're very slow and meant for short-distance shots.
Brands like Discraft and Innova have been making disc golf discs since the beginning of the sport, and they've pioneered new designs over the years. Other brands, like Prodigy and Latitude 64, only started making discs in the last decade, but they're just as technical and are pushing the science and engineering of DG discs into new territory as well.
It's a good idea to shop for discs in person: Holding one in your hand is the best way to tell whether it'll work for you or not. Every player grips the disc slightly differently, and some are better suited for certain hands and grip styles than others. Maybe you like your discs to feel a little gummy and flexy, or maybe you like them tackier and stiffer. It all comes down to player preference, but if you're ordering your discs online, those can be challenging specs to nail down.
Pro Tip: Write your name and phone number on the inside of your discs. If you ever lose one and someone finds it, the unwritten disc golfer code of ethics compels them to try and return it to you.
Bags
After you've bought a set of discs, you're confronted with a question: How are you going to carry all of them?
You could use a grocery bag or a backpack. Or, you could get yourself a disc golf-specific disc carrier. It'll make you look more legit on the course, sure, but it's about more than aesthetics: These bags are designed to organize your discs and keep them safely stored and out of the elements. Disc bags also train your brain to think of your game differently. If you get one, you can organize your discs based on type and weight, and when you play, you'll take a moment to consider every shot and which disc would be perfect for it. It's just like a golf bag, except it's lighter, cheaper, and less of a pain to store.
The Slinger by Infinite Discs is a great starter option. It holds up to 10 discs (plus two more in the putter pocket on the outside). When you're ready for an upgrade, the Athletico Powershot Disc Golf Bag should be at the top of your list. It holds up to 20 discs, scorecards and pens, and two water bottles (or beer cans), and it even includes a cooler pocket to keep your snacks or lunch chilled.
Finding Disc Golf Courses
Disc golf is a sport you can take with you on trips anywhere in the country, and even around the world. There are thousands of courses out there. So how do you find them?
There are a multitude of different course databases, sites, and apps that can help you find a place to play. The Disc Golf Course Review is a good place to start; it has an interactive map featuring over 6,000 courses. The Professional Disc Golf Association (PDGA) also features a searchable interactive map that makes it easy to find a DG course close to your location (as long as you have cell reception).
In addition, apps like UDisc and Disc Golf GPS Course Directory are great to use while you play. They feature satellite maps of each hole (for the courses in their databases), so you can get an idea of where to throw, and they'll track scoring for your games and calculate your performance, too.
Disc Golf Terms to Know
If you're a beginner showing up on the course, it's a good idea to have a basic understanding of disc golf lingo. Here are a few terms and definitions that'll give you a solid foundation for your first game.
Stable: the tendency of a disc to fly straight and remain stable.
Understable: the tendency of a disc to bank to the right during flight.
Overstable: the tendency of a disc to bank left.
Backhand: gripping the disc with your thumb on top and fingers curled under the bottom edge. Winding up across your body, you throw the disc with the back of your hand moving towards the target.
Sidearm grip: holding the disc with your thumb on top and fingers curled under, you throw the disc from the outside (if throwing with your right hand, from the right side of your body) with your palm facing the target.
Hyzer: an angle of release where the left edge of the disc is tilted downward (when throwing backhanded with your right hand).
Escape shot: when your disc lands behind a tricky obstacle and you have to throw it between or through objects to "escape" the situation.
Finesse shot: a gentle floating shot focused on accuracy.
Power shot: a shot with a lot of oomph behind it, usually for covering as much distance as possible.
Lay-up shot: an approach throw meant to get your disc close to the basket and set up your next shot.
Fairway shot: a short drive or a long finesse shot—something in between.
Roller: a throw where most of the distance is covered from the disc hitting the ground and rolling (which is totally fair game) instead of flying through the air.
Tomahawk shot: an overhead shot where the throwing motion looks like throwing a tomahawk. Because of the way the disc rotates as it leaves your hand and floats upside down, it can sometimes be used for escape shots where a horizontally thrown disc isn't going to make it past the obstacle. It also looks rad and will impress your friends.
Putt: any shot from within 10 yards of the basket.
Holing out: a putt that lands your disc successfully and satisfyingly in the chains of the basket.
Spit out: when your disc hits the chains of the basket and then bounces right back out.
Blow through: when your disc cuts straight through the chains and flies out the other side without landing in the basket.
Sweet spot: the very center of the chain, where the disc will strike with a satisfying chink before falling straight into the basket. Like hitting the backboard of a basketball basket squarely in the middle, it's almost guaranteed to go in.

For access to exclusive gear videos, celebrity interviews, and more, subscribe on YouTube!

https://www.mensjournal.com/travel/best-adults-only-resorts/
If you're new to the whiskey world, you might have noticed a phrase found on some expressions of bourbon (and even some other whiskeys). The phrase is "bottled-in-bond." If you purchased some of these bottles, you might assume it simply means that said expression is higher in alcohol than most. That's because bottled-in-bond bourbons are exactly 100 proof. But there's much more to this title than simply a higher alcohol content.
The Bottled-In-Bond Act of 1897 was enacted to make legal regulations surrounding the aging and bottling of whiskey, specifically bourbon. The reason this act came to be was because back in the late 1800s, much of the whiskey world was more like the Wild West. There was a lot of moonshine, ethanol, and other potentially dangerous spirits. That and some flavorings and coloring added to make them appear to be whiskey. The U.S. government wanted to protect consumers and actual distillers.
All these years later, using the term bottled-in-bond still comes with a few rules and regulations. According to the act, to fit this qualification, one distiller must make the whiskey at only one distillery in one distilling season. It must mature in wooden barrels for a minimum of four years in a federally bonded warehouse. It also must be bottled at 100 proof and have nothing except water added to it.
Now you know exactly what you're getting when you purchase a bottle of bottled-in-bond bourbon. So, it's time to drink it. To help you out, we put together a list of the best bottled-in-bond bourbons you can drink right now.

For access to exclusive gear videos, celebrity interviews, and more, subscribe on YouTube!

How to Explore the Best of West Virginia's State Parks and Forests This Fall | Men's Journal
2. Cacapon Resort State Park
West Virginia's Eastern Panhandle remains a popular escape thanks to its epic scenery, historic points of interest, and convenient proximity to hubs like Baltimore and Washington, D.C. This captivating region is also home to Cacapon Resort State Park. Tucked away in a folded mountain ridge, this park encompasses more than 6,000 acres and tends to lure lovebirds, history buffs, daredevils, and families. A visit here is like a choose-your-own-adventure getaway. Whether you're chasing a wild, untamed experience or seeking a more laid-back, restorative vibe, you're bound to find it here. Bonus: It's only about an hour from the Beltway.
What to do: For a rugged retreat, take advantage of the park's challenging single-track biking trails, marked by mountain switchbacks and varying terrain. Hikers can take off on nine different trails that wind over 23 miles. Trek up to the Cacapon Mountain observation deck (one of the state's most Instagrammable spots) to get jaw-dropping overlooks of West Virginia, Virginia, Maryland, and Pennsylvania all at once. You can also explore the park on horseback. Triple-C Outfitters is a family-run riding stable that's been offering guided tours in the region for more than two decades. Golfers flock to the park to play the 18-hole championship course, which features 73 sand bunkers and a commanding double green that's over 100 yards wide. Designed by famed golf course architect Robert Trent Jones, Sr., it ranks among the top 130 best-designed courses in the country. You can also grab a few buddies for some friendly competition. Game courts for tennis, basketball, sand volleyball, and even wobble clay shooting are available.
Where to stay: Searching for a sophisticated stay? The recently renovated 124-room Cacapon Resort is the newest lodge in the West Virginia State Parks System. The luxury property offers indoor and outdoor dining plus the full-service Healing Waters Spa. Fun fact: The area is known for its rejuvenating mineral springs and the name "Cacapon" is derived from a Shawnee word meaning "medicine waters." The park also has a collection of cabins in four different styles to customize your stay: Vacation, Legacy, Classic, and Economy. The advantages depend on which category you book, but they all offer the basics, like running water, electricity, fully equipped kitchens, and showers. There's also The Old Inn, a palatial 12-room cabin that sleeps up to 32 people. Its impressive claim to fame is being the very first lodge in the West Virginia State Parks System.
Best Adults-Only Resorts for a Kid-Free Getaway
[from $2,750 per night; twinfarms.com]
3. Chatham Inn, Relais & Châteaux in Chatham, MA
For another Relais & Châteaux jewel, head to Cape Cod. This 18-room, adults-only property is a postcard-perfect getaway. Spend relaxing afternoons strolling around the historic environs (the village of Chatham was established in 1712), scoping out lighthouses, hanging on the beach, and biking or boating the day away with your loved one. No trip to Chatham Inn is complete without a meal at Cuvée, run by 3 Michelin Star-awarded chef Isaac Olivo, for a tasting menu that melds together European technique with coastal flavor.
[from $349 per night; chathaminn.com]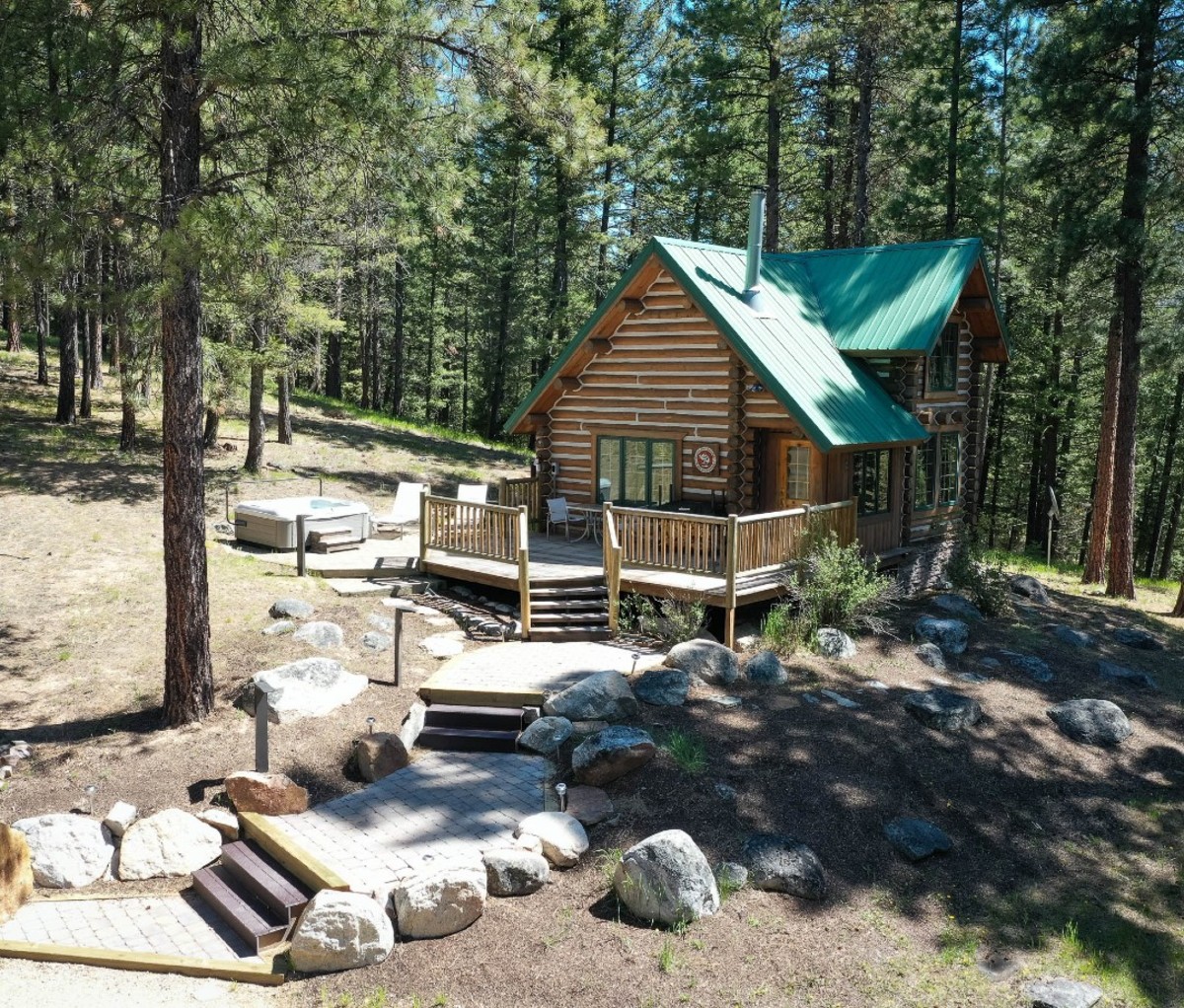 4. Triple Creek Ranch in Darby, Montana
Head to the majestic Bitterroot Valley outside Darby Montana, to this adults-only ranch amid towering pines below a 10,000-foot mountain. There, you'll stay in a private cabin as you indulge in fine wines and high-mountain fare (think Montana huckleberries, fiddlehead ferns, and rattlesnake sausage). Partake in hiking, mountain biking, horseback riding, fly-fishing, panning for sapphires (yes, really), and other alpine adventures. Throughout the lodge and cabins, be sure to feast your eyes on the beautiful collection of Western paintings and sculptures. There are works by classic greats like Charles M. Russell and Frederic Remington, and contemporary standouts like William Matthews and Oleg Stavrowsky.
[from $1,300 per night; triplecreekranch.com]